Soon, a monumental book by Jarosław Giemza, entitled Churches and icons of Lemkovyna, will be available in bookshops. The publication will have as much as about 700 pages, over 2000 illustrations, being the result of a long time work.
Before the book had been sent for printing, some unique icons from a collection in Lviv were found. They could not have been missed, that is why the printing was delayed. The publication, however, was enriched by further unique positions. The book announced is the first publication in history, in which the author deals with the church art of Lemkowyna in a comprehensive way, putting it in the context of the Rusyn-Byzantine art. There are 4 introductions at the beginning. The first three were written by: Catholic, Greek Catholic and Orthodox priests, the fourth one is a word from the author.
The first chapter deals with the byzantine tradition in the church art and architecture. The second one is a continuation of a precious lecture from before 30 years, by an eminent specialist within wooden architecture, a man who dedicated all his life to saving material heritage of the Southern-Eastern Poland, who died in 2009 – Jerzy Tura. The third chapter refers to the interior of a church, iconostasis, icons, altars, the authors of the wall paintings. The fourth chapter includes much useful information, for example how to read dates or shorts on icons in the Old Church Slavonic, as well as other inscriptions.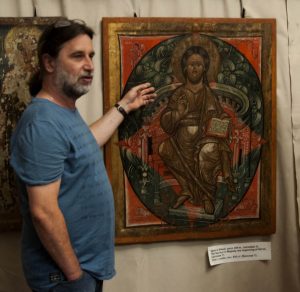 The book's promotion will take place 19-20 November 2016, in Presov and Kotań. It will be available in bookshops from 22 November.