A little bit earlier than usually, as there is a sad reason for this, the Lemko Association published a new edition of "Besida" (2 (155), March-April 2016). This is an edition dedicated to mainly informational purposes on the main celebrations of the 70th anniversary of the Lemko exodus – the Vistula Operation (1947-2017). The edition contains a detailed programme of the celebrations that were planned by Lemkos for 28-30 April 2017. You can read there among others:
Andrzej Ćmiech, Wigilia zaczynała się od kęsa czosnku z solą, toastu za żyjących i zmarłych; (Christmas Eve would start with a bite of garlic with salt, a toast for the alive and the late)
Seweryn Kosowski, Ruska Bursa carolled;
Natalia Małecka-Nowak, Lemkos carolled on the Kraków Main Square;
Seweryn Kosowski, "Do not cry, we are not lying so far away from people" – renovation of the military cemetery at Rotunda;
Natalia Klinkowska, "Terochka"s concert at the "Literacka Kawiarnia" in Kraków;
Seweryn Kosowski, Jordan at Lemkovyna – blessing waters in Leszczyny; 
Luke Suk, 100 years of Stefan Habura – report from the beautiful jubilee;
Vladimir Chylak, Fish– extract;
Vladimir Chylak, My, of blessed memory, deacon – extraact;
Piotr Trochanowski, 4000 kilometers in в 7 days (3);
Condolence from the Main Board of the Lemko Association and "Besida" Editorial Board for PhD Olena Duć-Fajfer on the death of her mother – blessed memory Olena Duć (1927-2017).
Some of the pages, as always, contain many extracts from available press that concern Lemko stuff, there are also other permanent columns, as poetry (this edition contains mainly the resettlement one), or Ambrozovy peredumania (Ambroz's reflections). The Vydavnycha polychka (Publishing shelf) brings information on two books: Dynamické procesy v súčasnej slavistike and The Union of Brest –  tragic in consequences.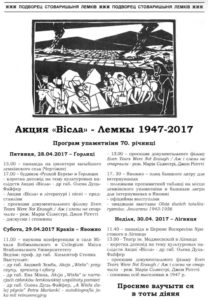 The programme of the 70th anniversary. We will inform on the details soon.
---
"Besida" bimonthly is a magazine of the Main Board of the Lemko Association, it has been published since 1989, it is dedicated to protection of history, culture and language of Lemkos, informs on the life of our and brotherly societies, it cares for the hopes of our ancestors.
"Besida" is available in the Ruska Bursa Library in Gorlice which is open on Mondays from 2PM-6PM or after individual appointment. The magazine is also available in the local circles of the Lemko Association in Poland.