On 28 April 1947 the shameful Vistula Operation started, as an effect of which Rusyns were exiled from Lemkovyna to the post-Germans lands of Poland. Because of this, the Lemko environment planned to commemorate these tragic events organizing in 28-30 April 2017 recollections on the 70th anniversary of resettlement.
In connection to the planned agenda of the recollections (attached below) that will take place on Lemkovyna, then in other places, to finish in the exile, the organizers decided to announce two trips, thanks to which people that feel the moral duty to stay together on this day – will take part in the main events that were named: Lemkos 1947-2017.
Legnica-Certizne-Gorlice-Kraków-Jaworzno-Legnica – the trip will start on Friday (28.04) at 6AM from Legnica, wherefrom the relatives from the west will get to the nonexisting village Certizne where at the local cemetery a funeral service will be served for the victims of the Vistula Operation. Then the bus will go to the cultural institution – Ruska Bursa in Gorlice where further events related to the Lemko part of the recollections will take place. The next day (Saturday, 29.04), the participants will go to Kraków where in Collegium Maius of the Jagiellonian University a scientific conference will take place related to the anniversary. On the same day the bus will take the participants to Jaworzno where on the place of the former camp where our ancestors suffered, further commemorations will take place. After that, return to the west where on the next day (Sunday, 30.04), so called western part of the commemorations will take place. Regarding organization of the trip call 726 349 472 – Seweryn Kosowski.
Gorlice-Kraków-Jaworzno-Gorlice – leave on Saturday morning from Ruska Bursa in Gorlice, in order to take part in the scientific conference in Kraków from 11AM. Then, together with the "western bus" the participants will go to Jaworzno. In the evening the "Lemko bus" will return to Gorlice. To get to know  more about the trip, call 535 898 118 – Monika Tylawska.
50% of the costs of trips will be funded from the social means that the organizers succeeded to gain. The second half shall be paid by the participants. Detailed information on the main commemorations will be soon placed on our website.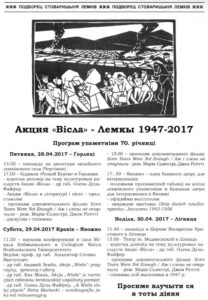 Schedule for commemoration of the 70th anniversary of the Vistula Operation. We will soon inform on the details.
phot. screen from the film by Andrzej Kopcza – Vistula Operation «Exile», 2004. https://www.youtube.com/watch?v=QuM_kJvhfis&t=1144s