On Sunday, 27 November 2016, a Rusyn village of Osadne in the Presovian Rus' will welcome two Archbishops  – Metropolitan of the Czech Lands and Slovakia Rostislav and Serbian Archbishop Atanasij. As a priest from the parish of Ascension of Jesus in Osadne informs, the reason for the visit is the "90th anniversary of revival of Orthodoxy in Osadne." The event is related to the 90th anniversary of establishment of the Orthodox parish in Osadne. The Holy Mass starts at 9:30AM in the church of Ascension of Jesus,  after the utrenya and welcoming of the Archbishops.
The proces of conversion to Orthodoxy in the Presovian region, in some of the villages took place more or less at the same time as in Lemkovyna. In 1926 Osadne's inhabitants declared affiliation to the Orthodox Church. Three years later, they started to build an Orthodox church near a memorial dedicated to Russian soldiers. Consecration of the church that took place in 1930 was served by a Serbian Bishop from Mukachev. Because the contemporaneous authorities objected to building a new church in the village, Osadne's inhabitants decided to firstly build a memorial dedicated to the soldiers who died during the I WW, who are buried in a crypt below the local church (one of the last funerals in the village took place this year). In the crypt there are relics of about 1600 Russian soldiers from the times of the I WW, who died during the unsuccessful Carpathian expedition of general Kornilov. The church of Ascension of Jesus was officially built as a mausoleum, but it was designed in such a way so that it can perform the function of a church. Interestingly enough,  there are some artefacts in the church from the non-existent church in Balnica – a village located in the east Lemkovyna.
Osadne is a Rusyn village in Snina district, 17 km from the Polish-Slovak border. The village is nowadays mostly associated with the movie entitled: "Osadne", photos to which were taken in 2006-2009. It is an adaptation that shows the struggle of Rusyns who are aware of the event that they will soon face. An interview about the meeting-to-come of the leaders of European politics with the village administrator of Osadne – Vladislav Mikulashek, an Orthodox priest of Osadne – Peter Sorok, as well as Fedor Vico – a cultural activist and caricaturist. Apart from the photos from the European Parliament, in the movie there are also some scenes from the local tavern, from a funeral, baptism and farm works. Important demographic issues are raised that seem to concern Rusyn villages within the Carpathian Rus'. In the village there is also a Greek Catholic church from 1792.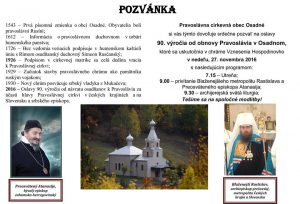 phot. above: Facebook profile of prest Peter Soroka