As tok.fm website announces, tomorrow (5.11), in the Rusyn village of Ropki, Lemkovyna, blessing of a memorial stone with a board dedicated to the past, autochthon inhabitants of the village will take place. The board will commemorate the resettled in the Vistula Operation – the Lemkos, a Romanian family that lived until the II WW, as well as two Jewish families that together with their neighbours, Romanies, were killed by the Hitlerian executioners.
The note placed on tok.fm website was prepared by a Polish professor of medicine and pedagogy – prof. Andrzej Jaczewski, who arrived in Ropki in 1960s. As he writes on his blog, cited on the mentioned website: […] in the past, the village was strongly settled with Lemkos. But when I came here in 1960 to prepare a place for scouts, only two families of especially stubborn Lemkos lived here. Out of the Lemkos resettled within the Vistula Operation in 1947, in October 1956 only they returned. Why? Because they loved the beauty of this place. I understand it perfectly – I have also did so, in a short time.
The memorial for the past Ropki inhabitants will be placed at the local cemetery where, until today, a few historic gravestones are located, next to a place where a beautiful wooden church of The Nativity of the Blessed Virgin Mary from 1801 used to be located. It was moved to a museum in Sanok when its condition got bad due to the time passing. Nowadays the cemetery is taken care of by an Orthodox parish of the Protection of the Blessed Virgin Mary in Hańczowa. The board will be blessed tomorrow by the local Orthodox priest that serves for Ropki parish and takes care of the cemetery. I am sending greeting to all of those who have ever been to Ropki, I also ask to remember about this unique place and I encourage to think, at least for a while, about this difficult and tragic history. Ropki are not an exception here – villages like this were numerous… – as prof. Jaczewski writes.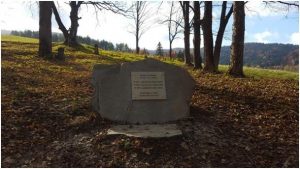 The event of establishing the memorial for the past inhabitants of the village deserves applause. Unfortunately, this year we informed about the act of intolerance and xenophobia against Lemkos, the village name of whom is written also in Lemko: Ropki – Ріпкы. Fortunately, after an intervention in the Uście Ruskie commune of one of the Czuha Lemko Young Association in Poland activists,  as well as our radio's co-worker – the table was cleaned. In July, the local cemetery was cleaned by Lemko young people, as a part of their Orthodox pilgrimage to the Holy Jawor Mountain.