The Lemko Association and its associates – Ruska Bursa Association in Gorlice and the Primary School in Krasna village, as well as media sponsor – LEM.fm media group, are pleased to invite you for the XXIV Lemko Cultural Autumn that will take place from 15-16 October 2016 in Krasna and Gorlice. This year's edition is dedicated to the 100th death anniversary of Klavdiya Aleksovich – these two events overlap.
Lemko Cultural Autumn is a meeting of Rusyn writers from various regions of Carpathian Rus', and also those who refer to Rusyns in their works. The event took its current shape a dozen or so years ago, and it consists of two days. The first day is planned in a place which is connected to an event or an anniversary, on the second day the artists gather at the Ruska Bursa in Gorlice. There, the final part of the event takes place every year. As an example, last year's edition may be given. It started in the Kamianna village (the birthplace of Mikolaj Maliniak) on the 100th anniversary of his tragic death in Thalerhof), or the event from 2014 that started in Tylicz and referred to the 100th anniversary of beginning of one of the Rusyn ordeals of the 20th century – Thalerhof. The Rusyn writers will come to Krasna for the second time already, as the first day of the XVIII Lemko Cultural Autumn in 2010 took place there. The edition was dedicated to a double anniversary – 120th of birth and 50th death anniversary of Ivan Rusenko. On this occasion, opening of the Rusenko Remembrance Hall took place in Ruska Bursa, as well as a book promotion: "Rusenko – Selections" («Русенко – Выбране») edited by Petro Trochanowskyi. So far, it has been the most comprehensive collection of poems, prose, drama and graphics by our Teacher.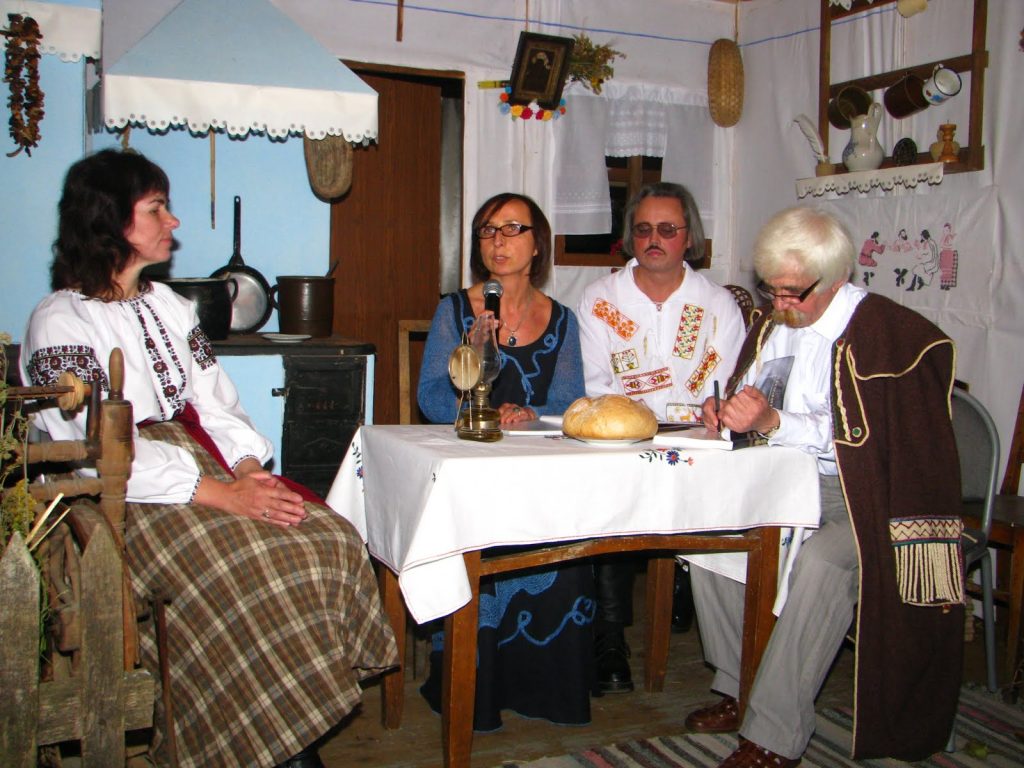 XVIII Lemko Cultural Autumn 2010 in Krasna
This year, writers from Poland, Slovakia and Ukraine have been invited to Krasna and Gorlice. The musical part will be performed by primary school students  from Krasna, Terochka ensemble from Ruska Bursa, Lesia Mackiw – Horlytska and Dollars Brothers ensemble. The artists' performances will be preceded by Olena Duć-Fajfer, Ph.D.'s lectures on the life and works of Klavdiya Aleksovich.
Klavdiya Aleksovich (*30.11.1830 – +15.10.1916) was born in Krasna village, a Lemko ethnic isle to the north of Krosno, 60 years before the birth of our great teacher Ivan Rusenko, who was born in the same village. She was a daughter of the local Greek Catholic priest Joan Aleksovich and Teresa (née Trochanowska). She became an orphan as a child and her grandfather handled her upbringing. His name was Toma Polyanskyi and he was an Archbishop of Przemyśl (his roots were from Bortne, Lemkovyna). Thanks to that, she had the opportunity of education which was not generally available for women back then.  She founded and worked in the first female organizations, she wrote for children and adults. She was named as the First Lady of the Lemko literature. She is buried at the Lychakiv Cemetery in Lviv.