This year at the time of the 5th edition of the Rusyn Festival in Svidnik, the name of the first Miss World Rusyn will be revealed. These are the only requirements in order to take part in the competition for the Most Beautiful Rusyn Girl in the World: you need to be 18-28 years old, you need to fill an application form (here you can find the link), then – as you receive the message – photographies and a short video in which the candidate introduces herself – need to be sent to missworldrusyn@gmail.com.
Until 31.03 the organizers will inform which candidates qualified to take part in the competition. Then, the participants will need to prepare for 3 disciplines:
передставити ся публиці по русиньскы (до 2 минут),
 to introduce themselves to the audience in Rusyn (up to 2 minutes),
to sing one Rusyn song or to dance one dance to a Rusyn song, dressed in traditional clothes,
one discipline chosen by the finalist herself.
The competition will take place on 27 May 2017 at 7PM in the amphitheatre in Svidnik.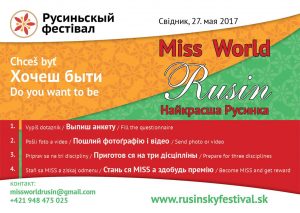 The organizer provides accommodation, food and transport for the finalists – one representative from the countries in which Rusyns live: Poland, Slovakia, Ukraine, the Czech Republic, Hungary, the USA, Canada, Serbia, Croatia and Romania. Apart from the title of the Miss World Rusyn, the most beautiful Rusyn girl will be awarded with 1000 EURO, the first vicemiss 600 EURO and the second vicemiss 400 EURO. The details are available on the official website of the Rusyn Festival in Svidnik.