Let's meet Sarah Kushwara – a contemporary Rusyn painter, photographer, printmaker, and illustrator. She lives in the US but she knows and remembers about her Lemko origin. Although her works do not refer to a Lemko heritage, it is her dream to come to her ancestors land  and paint there. Her homeland is where the villages Wolowec and Krampna are.
I've read you have a Lemko roots. Could you please tell me a bit more about your family? Where are you from exactly? Do you consider yourself as a Lemko? Is Lemko culture present at your life?
I am from Connecticut in the US, but some of my relatives emigrated here from the villages of Krempna and Wolowiec. My grandfather spoke Rusyn. We always celebrated Christmas in January as we still do, and we still make and eat Rusyn food. This Easter I made psyanki (that looked more like an experimental artist made them than a traditional one) and pascha bread. So, yes, I do consider myself Lemko enough to understand Lemko culture. I am not from the homeland, but Lemko blood runs through my veins and is in my heart. I am connected to my heritage and my ancestors through my dreams and in memory.
Have you ever been in Lemkoland?
No, I have not yet been to my homeland, but it is a dream to paint there in the future.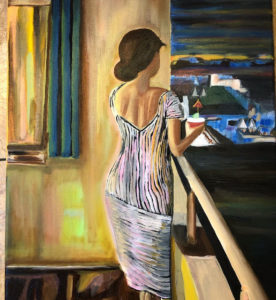 Does a Lemko heritage influence your art? Can we see it in your paintings?
Perhaps it does subconsciously, but it hasn't surfaced yet in a blatant visual way to the viewers. I do have some sketches that I will create into paintings that reflect my Lemko heritage at a later point in time.
Is knowledge about the heritage important for artists in general?
Perhaps it does subconsciously, but it hasn't surfaced yet in a blatant visual way to the viewers. I do have some sketches that I will create into paintings that reflect my Lemko heritage at a later point in time.
How did it all start? Who taught you to paint? Are you a professional painter?
My painting journey began with no professional art education—and I am kind of proud of that. I wasn't technically perfect, but my own style was completely free from other artist's influence and any art movement.
I started painting with this vibrant Yarka St. Petersburg watercolor set on a trip to Amsterdam seven years ago. Then I would bring the paint set around with me and paint cityscapes outside old mosques in Istanbul and in outside markets; I felt very inspired there to paint as it is such a magical place. Then the paints came with me everywhere—on hikes, social gatherings, etc.  Bored or inspired by a conversation? Just whip out the paint set. Eventually I took informal lessons with some amazing artists outside of a formal classroom. I learned to use oils from them. A few years after that, I got my certificate in Art, but my style had already been established.
What is your art about?
My art is about movement, fear, and reflection. Some of my art captures moments people would like to save so they can revisit them from time to time. This may sound Jungian, but some of my art is about the unconscious mind. My art is becoming more about minute aspects of color change, and I am digging deeper into my own psyche to create. My art is always evolving and no piece looks the same as the other but figures appear in most of my paintings.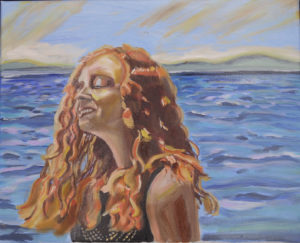 What inspires you the most?
Music inspires me when I paint or create. I always bring a sketch pad to sit-down concerts. The music I listen to often while painting is usually Indian classical, roots music, Anatolian music, and 60's music. People inspire my painting especially. I get so inspired by ballerinas and flamenco dancers but I also get inspired by people who sit alone, people that look like life has beaten them down by their worn hands and broken stature. Nature whispers ideas always—especially mountains.
You paint, you make photographs and illustrations. What is your favourite way to creatively express yourself??
My favorite way to express myself is through painting.
Why don't you paint flowers? [On an Instagram description of her, which is very short, the artist has written she does not do it – editor's footnote]
I am starting to warm up to flowers these days—just a little. I love the passaflora especially. So many artists paint flowers; it's predictable, and if the flower painting isn't expressive, it bores me. I would rather paint a storm. I do paint shadows of flowers.
Are you familiar with a Lemko/Rusyn art? Do you have any favourite Lemko/Rusyn artist?
I have started to explore Rusyn artists, and I like the work of Jerzy Nowosielski and Volodymyr Pavlyshyn especially.
Thank you for your time.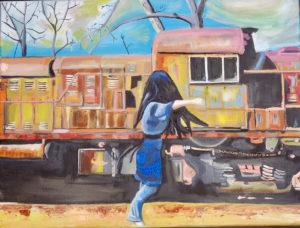 Other paintings and creations of Sarah you can find here: sarahkushwara.com.