According to the Holos Karpat portal, news from today in the morning, on 15 March 2017 in the centre of Vynohradiv town the memorial of an emiment awakener of the Carpathian Rusyn  – Alexander Duchnovic – was damaged.
Further, the portal informs this was done deliberately. The guilty for the damage is a limb that fell on the memorial when the workers of the local services were cutting down birches, limbs of which were hanging above the monument. After the monument got damaged, it was covered. The editorial board asked also the head of the District cultural-educational society of Alexander Duchnovic about the issue but he did not want to comment the event.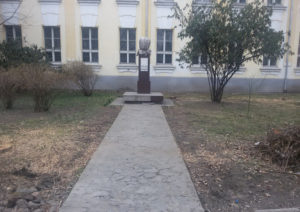 The memorial of Alexander Duchnovic in the centre of Vynohradiv has been reently made by Vasiliy Belen. It was located only few meters from the memorial of Taras Shevchenko. The area around the memorial was to be cleaned thanks to the local foundation Vynohradiv. At this time it is not known  if they will be able to restore the monument which got damaged in the morning.
The monument is not the first one in the town's history. In 1925 the local intelligentsia made a monument for Alexander Duchnovic. At that time, it was a huge event within the whole Subcarpathian area. Many contemporaneous eminent activists took part in the event, as well as choirs from Presov, Uzhorod and Mukachevo. After annexion of the Subcarpathian Rus' by the Soviet Union, a memorial for Stalin was built in the place of the previous one. Then, this place got empty.
Inerestingly enough, the damage took place on a day when nationalist Ukrainian circles in the Zakarpattia Oblast of Ukraine start celebrations on the 78th anniversary of establishment of the Carpathian Ukraine, a state that existed for one day and the president of which (Augustyn  Woloshyn) demanded patronate of the newly-established state of pro-Ukrainian position in the territory of historical homeland of Carpathian Rusyns.
Photography source: goloskarpat.info
ARTICLE WRITTEN ACCORDING TO PRESOVIAN STANDARDS OF RUSYN LANGUAGE