On Saturday 22 October 2016, the Choir of the Saint-Petersburg Metropolitan Clergy performed in a Rusyn village of Osadne, Snina District. Together with the choir, Russian Orthodox Church delegation visited the church, bringing relics of the Saint. The information was given by Korzár, a Slovak weekly.
The Choir of the Saint-Petersburg Metropolitan Clergy has 30 members and it performed in Osadne within the Days of Russian Religious Culture. According to an Orthodox priest, Petro Soroka from the Embassy of the Russian Federation in Slovakia which was the main organizer of the event, Osadne is a unique place in the Slovak Republic, as a unique crypt is located under the local Orthodox church. There, more than a thousand soldiers of the First World War were buried, and further 1400 Russian soldiers were buried at the local cemetery.
According to Petro Soroka, the choir's performance was not only singing for the public, mainly it was a prayer for their relatives who are buried in Osadne.
Also, the Russian Orthodox Church delegation visited the church, led by Metropolitan Theodosy, who graduated from Faculty of Orthodox Theology, University of Presov. The delegates brought relics of St. Luke the Crimean to Slovakia – a deserved Orthodox saint of the XXth. century, whose secular name was Valentin Feliksovich Voyno-Yasenetsky.
St. Luke the Crimean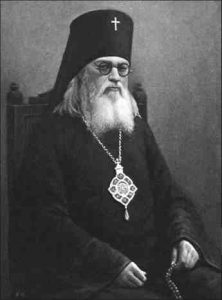 St. Luke the Crimean was  an archbishop of Simferopol and of the Crimea. He was also a great surgeon and a professor of medicine. He invented local anesthesis and was the first one to apply it in practice.
He was born on 27 April 1877, in Kerch, in a chemist's family. First, he got a degree in medicine at the Kyiv University. In 1923, after his wife died, he decided to become a monk, already as an Orthodox priest. The same year he bacame a bishop. He was arrested three times for his faith by the Soviet authorities, and banished.  In 1942, he was raised to the rank of archbishop and he entered the territory of Crimea in 1946, after the Second World War. He objected to closing old churches and built new ones. Simultaneously, he was doing his job as a surgeon. St. Luke the Crimean treated the ill gratuitously, he also had the gift of prophecy. He died on 11 June 1961, on All Saints' Day.
On 22 November 1995, the Synod of Ukrainian Orthodox Church (Moscow Patriarchate) deemed him as a Saint. In 1966, his relics were taken to the Holy Trinity Cathedral. In 2000,  during the Jubilee Sobor of Bishops of the Russian Orthodox Church, he was officially recognized as a New Martyr and Confessor.
Photographies sources: the main- Wikipedia, photography in the article – svluka.cz.
ARTICLE WRITTEN ACCORDING TO PRESOVIAN STANDARDS OF RUSYN LANGUAGE