Although Andy Warhol is the most popular American artist of Rusyn background in the world, he is not the only one. Earlier than Andy, in an emigrant family of Belejcaks, Rusyns from Nizny Tvarozec in the Presovian Rus' (back then a village within Austrian-Hungarian Army), a writer Thomas Bell was born and grew up.
Thomas Bell, actually, Tomas Adalbert Belejcak, was born on 7 March 1903 in Braddock, Pensylvannia, the contemporaneous industrial centre of the USA where at the end of the XIX and beginning of the XX thousands of people emigrated. Among them there were also Thomas's parents – Mary (family name Krachun) and Michael Belejcak.
At the age of 15, Bell started to do an internship in the local smelter. In 1922 he moved to New York where he did different jobs. He was a mechanician, a bayman and he also worked in a bookshop.
His first novel entitled The Breed of Basil was published in 1930. From 1933 he abandoned all the other occupations and he entirely dedicated himself to writing – in the following years he published 5 novels: The Second Prince (1935), All Brides Are Beautiful (1936), Out of This Furnace (1941), Till I Come Back to You (1943), and There Comes a Time (1946).
Based on the All Brides Are Beautiful , in 1946 a movie was directed entitled From This Day Forward. The story from Till I Come Back to You novel was the basis for a Broadway performance entitled The World Is Full of Girls.
In 1955, together with his wife, they moved to California in the west of the USA. He died from cancer on 17 January 1961. In the same year, after his death, his last novel was published – In the Midst of Life.
Thomas Bell became significantly more popular when in 1976 a publisher functioning by the Pittsburgh University republished the Out of This Furnace book which was very successful.
Out of This Furnace is a historical novel, the action takes place in Braddock where Bell was born and grew up. The basis is a history of emigrant family, three generations were shown, starting with the one that emigrated in 1881 from Austria-Hungary to America. The action ends at the time of the II WW. The book says about problems that the people had to struggle with, about poverty, realities of life in the lowest social group, about being discriminated by other Americans. The work points at the role that the smelter or mine played in the life of tens of other, similar families in Pensylvannia.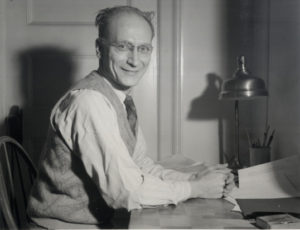 Phot: explorepahistory.com