The Krynica Photography Association together with the Association of Friends of Muszyna Almanac, announce a photography competition the aim of which is to show the beauty of two Lemko churches that were entered on the World List of Unesco Heritage. It is about Greek Catholic churches in Powroźnik and Brunary.
The competition is organized within the XVIth edition of the Architectural Detail of Historical Muszyna Country. It has been called as "Unesco Monuments – four seasons of the year" so the photographies may show the beauty of the churches regardless of the time when a picture has been taken. There are two churches included in the area of the Muszyna Country: the church of St Jacob in Powroźnik and church of St Michael in Brunary.
The organizers will accept photographies that will present the architecture in its full shape, including the external and internal details. Apart from that, it would be desired to make use of some characteristic elements that are present during a particular season (for example some atmospherical phenomena or time of the day). One author can present only one season on their photographies.
Every participant of the competition can send up to 9 photographies to the following address: detalunesco@gmail.com. You can send them until 31 May 2017. The final results shall be announced after 11 June 2017 when the jury meet. Apart from announcing the laureates, some of the works will be qualified for a post-competition exhibition. The main award for the lead is 500 zl. Two further awards will be 400 and 300 zl.
The beauty of Lemko churches has not been appreciated for a long time, mainly at the time when the Lemko minority was outlawed. New owners of the churches frequently did  not care for their condition, some of them allowed for taking them to pieces. During the first years after the resettlements, many church monuments crumbled for ever. One of the authors who described the problem in details is Jarosław Giemza. Recently, his book has been published – a monumental album entitled: "Churches and icons of Lemkovyna."
Some churches were honoured with the entry in June 2013 – 5 churches from Lemkovyna were entered into the List of the World Heritage UNESCO. These were: church of St Michael Archangel in Turzańsk, church of St Jacob in Powroźnik, of St Paraskeva in Kwiatoń, of St Michal in Brunary Wyżne, church of Protection of the Virgin Mary in Rychwałd (Owczary). In the LEM.fm archive you can find a series of programmes entitled "Registry of Monuments," where two episodes were dedicated to the churches in Brunary and Powroźnik.
A detailed statute of the competition is available here.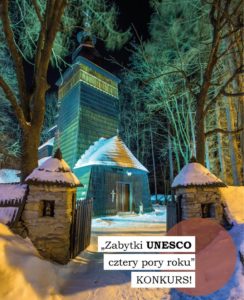 phot. above: colourful (Brunary): Kamil Paluszek; black and white (Powroźnik): LEM.fm archive