The Commune Centre of Culture in Uście Ruskie succeeded to obtain a grant for a project "Woodcarving in Nowica" from the Ministry of Culture and National Heritage. The project will be realized within the programme Cultural Heritage, Priority: National and traditional culture.
The donation aims to support the craft that is nowadays considered to be a cultural treasure. The idea is that the project lead to a natural transmission, i.e. that persons within the project that are occupied with woodcarving in Nowica, pass the profession and their knowledge to others who will take part in the tasks. The art of woodcarving will be presented by a woodcarver from Nowica, Piotr Michniak. He will focus on a direct learning of a particular person or a group that would be truly interested in the profession. Thus, the project is not only one meeting, it is planned for a longer time, as a cyclic task – so that the process of transmission of knowledge on the craft be uninterrupted. The event is planned for 12 months.
Within the project, workshops were planned on building and construction of manual lathe and so called 'dziad' – a tool used to whittling of spoons and building a further tool that serves to carving wooden spoons, both in traditional and mechanical ways. Apart from this, the participants will get to know with the process of preparing wood that then would serve for making woods. The project is coordinated by Regina Pazdur – a person thanks to whom a film was realized at the beginning of 2017. The film introduced the history of woodcarvers from Nowica (we informed about it here) that have been promoting the tradition of this craft until today, they are proud of the profession, they show it performing at various exhibitions and competitions.
---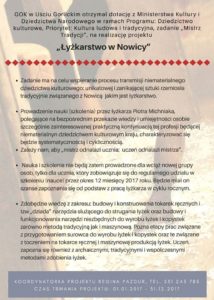 phot. www.beskid-niski.pl