One of the fasts ended as Christmas came, now it is time for some entertainment, then another fast will come – the Lent. Thus, also Lemko zabavas are coming. Most of them will take place in the exile, there is also one that will be organized in Lemkovyna.
The Lemko Association invites to Przemków 
On 25 February 2017 the Circle of the Lemko Association in Przemków invites for a zabava that will traditionally take place in the Culture Centre in Przemków. It starts at 8PM, it will be accompanied by Trojanda ensemble. The entrance ticket is 90zl.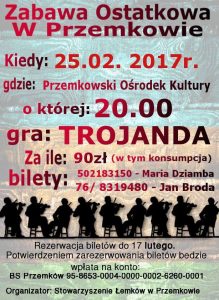 Osiek near Lubin
A week before, 18 February 2017, a Lemko zabava will take place in Osiek, a village located near Lubin. We got to know off the record that all the tickets have been sold out already, but you can always try. The zabava starts at 8PM, it will be accompanied by Demaj ensemble (before known as Axel from Gromadka). The tickets are 40zl.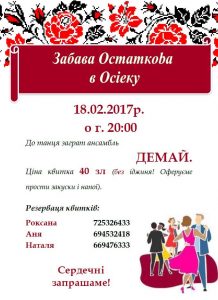 Szportawa or Szprotawa?
As we have already informed on our website, on 4 February 2017, in Szprotawa (Szportawa, as the old Lemkos used to say), a Lemko zabava starts from 8PM. The entrance is 100zl and the ensemble will be Wodohraj.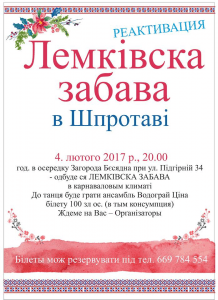 Lemko village of Gładyszów 
In a few days, on 4 February 2017, in the firehouse in Gładyszów, another zabava for the young will take place. The tickets are only 10zl. Some snacks and beverages will be provided. The zabava will be accompanied by music from a laptop.