Some organizations and social initiatives from the Presovian Rus' invite for Christmas meetings. Rusyns who belong to the Greek Catholic church in Slovakia celebrate Christmas according to the New Style – Gegorian calendar. Therefore, one of the two events that will be mentioned below takes place already next week.
On Sunday, 11 December, the Rusyn Chmelova village society invites for Bethlehem afternoon that will take place in the local culture centre. The organizers provide the possibility of making Christmas decorations out of traditional materials, decorating the Christmas tree and, most of all, joyful atmosphere. The event is realized with the financial support of Chmelova village.
The second event, which will take place the following week, will be a Christmas concert – Nova Radist Stala – it will take place on Saturday, 17 December 2016 in the culture centre in Ihlany. At the concert, six groups from Presovian Rus' will perform: Shambritsi, Voroday, Divchata z Ihlan, Rutheni-Balkan Duo, Zhakovchan and Sestry Uhlarovy. The entrance will be for 1 euro, for children up to 15 years old – the entrance is free. The event is organized by a youth organization Young.Rusyns, Rusyn.fm radio, Rádio 9, as well as Rusyn Obroda from Slovakia.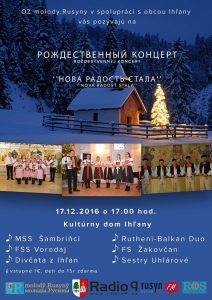 In other parts of the Carpathian Rus', similar Christmas initiatives will take place. Traditionally, as every year in Lemkovyna, Ruska Bursa in Gorlice invites for a Christmas meeting – Christmas Eve, on which we will give more details soon.