"Chyrchanka" Rusyn folk ensemble from Čirč, Prešov Rus', announces recruiting for new members of the group. The meeting will take place next Saturday, 1 October at 6PM in the local Community Centre. The ensemble did not call the initiative as "recruitment", rather an "Open House" day. This means they invite everyone interested to appear on the stage. All the people present will sing and dance together.  The ensemble invites boys and girls over 15, they may attend the singing or dancing groups, or if they play any musical instrument, the band. All of the attendants are asked to dress comfortably.
The folk ensemble was reactivated in 2012, after about 22 years, on the initiative of the Čirč village mayor, Michael Didyk. The ensemble aims to present the village's folklore both on home stages and abroad. The ensemble constantly performs – boys and girls dance, and sing to the accompaniment of violinists.
Čirč is a Rusyn village, a place known for pilgrimages. According to the parish book of records, an old man appeared to two girls there and put a stick in the ground. Water that had healing power flowed from this place. Then, the man ordered them to build a chapel by the water source. Čirč is also the first Rusyn village on the other side of today's Polish-Slovak border (the village is situated over the river if you look from Leluchów/Leliukhiv side), this is why we recommend to visit the place not only to the Rusyns of the Prešov region, but also to those from Lemkovyna. The neighbourhood of Čirč, Leliukhiv and Dubne is shown also by the clothes worn – traditional clothes in these villages are almost the same.
---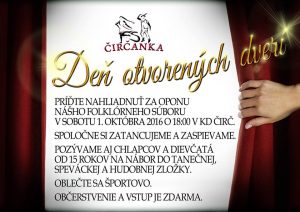 Below – performance in Greek Catholic Church of the Protection of the Mother of God in Chyrch.