The Christmas time is coming to an end for the faithful of the Greek Catholic Church in Slovakia. Thus, together with the end of the Nativity Fast, some societies are organizing numerous events, both cultural and entertaining. Kamienka village located in Stara Lubovna District, at the end of 2016, invites for an event called Days of Rusyn customs and traditions of Kamienka village, it will take place next Wednesday, 28 December 2016.
The holiday of Kamienka village starts at 5 PM with a Christmas Moleben in the local Greek Catholic church of St Peter and Paul. The parish priest is Franciszek Krajniak – an eminent Rusyn priest, translator of the contemporary church texts to Rusyn (among others, Tetra Ewangelia/Four Gospels, Mali Trebnik). After the mass, a concert of Christmas carols will take place in the church.
After the church part, a cultural part will take place in the Cultural Centre in Kamienka where, according to the plan, from 6:30 PM, exhibitions and presentations of Rusyn activities connected mainly to the village will take place. The last point of the event will be a concert entitled Christmas. You will hear many Rusyn carols performed by the invited ensembles.
When it comes to the concert, firstly, guests from the Subcarpathian Rus' will perform: Folk music Betiari from Mukachevo. The other ensembles will be local, among others: Polana ensemble from Oriabina, Voroday from Lipnik Velky, a Greek Catholic church group Archangelikos from Poprad, singers of Rusyn folk songs Petro and Denis Ziatikovtsi and Roland Guba from Medzilaborce, Uhlarovy sisters from Zhakovce, other young Rusyn talents and the host of the event – the local folk ensemble Barvinok.
The event is organized with the cooperation of Kamienka village, Rusyn Obroda in Slovakia and the Society of St John the Baptist. The contemporary head of the Obroda – Martin Karas, lives in Kamienka and apart from the job within the organization, he is also the head of Barvinok ensemble, with which he concerted on the stages of the whole Carpathian Rus', as well as abroad, at the Lemko Vatras in Michałów.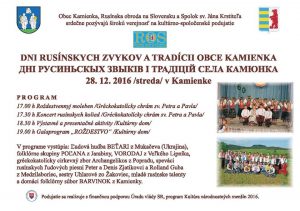 Barvinok folk ensemble released their new CD with Rusyn carols for this year's Christmas. You can listen to their carols below.