A young Rusyn organization from the Presovian Rus' – Young.Rusyns organizes a further event under the series of Evening with Rusyn voices. Although last year the event took place somewhat later, this year it will take place next Monday, 21 November in the Culture Social Center in Kosice.
The organizers write about performances of some eminent persons of today's Rusyn music stage. Every year they try to choose the artists in such a way that each time there is the traditional Rusyn folklore, but also the modern music, this year including authorial compositions. This year, three groups will perform on the stage in Kosice. The first will be a singing part of Vranovchan folk ensemble, a group with more modern music – Rutheni Balkan Duo, as well as a unique guest of this year's edition -a group from Lemkovyna – The Dollars Brothers, known in the Rusyn environment as Дуляровы Братя (Dularovi Bratja).
The Dollars Brothers do not need to be introduced in Lemkovyna. Recently, with the help of Ruska Bursa Association from Gorlice, their first official CD was released, entitled "Dollars Brothers and friends/melodies." It presents 12 unique Rusyn compositions, including the contemporary Rusyn ones, as for example Shkovranochok by Murianka which was performed among others at the I and II editions of "Songs of Petro Murianka" by the author himself, by vocalists Susanna and Julia Doszna, and Digestors group. Another unique composition that should be included in the concert's repertoire is Svit misiachku song. The basic thing about the song, which may impress many, is that the song is an authorial composition of Rusyn Shtefan Lukacko – the lyrics and music were written by him. The ensemble's CD and, at the same time, their repertoire, includes also further authorial compositions, as for example V temnu nichku song (lyrics by Seman Madzelan, music by Maestro Jarosław Trochanowski). The ensemble from Gorlice performs also a song by the Teacher of Lemkovyna – Ivan Rusenko, entitled: Spivanka, music for which was composed by Petro Murianka.
The meeting will be moderated by an actor of the Alexander Duchnovic's Theatre from Presov – Vladimir Chema. The entrance is free. The event is realized with the support of the Slovak Republic's Government within the Culture of National Minorities programme.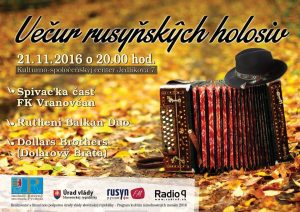 ---