A varnishing day of an exhibition by Inga Marczyńska entitled Icon will take place on 5th January in the Polish-Slovak House of D. Jurkovic in Gorlice. The artist's icons and pictures will be presented.
Inga Marczyńska is an author of many individual and collective exhibitions, among others in Sanok, Jedlicz, Korczyn, Besk, Komańcza or Jasło. She is a laureate of many competitions and honours, she was honoured for example at the VII Biennial of Folk and Nonprofessional Art in the Jasło Cultural Centre in 2o16, in 2015 she was given the title of a Deserved for the Culture of the Jasło County. She lives in Kołaczyce where she runs icon and picture workshop. She works in the Antyschematy 2 Foundation and Beskid Zielony Association. She is a deputy of the head of the Union of Artists Rzeszów Affiliate. Within  a voluntary work she organizes visual arts workshops for children and disabled people, she takes part in public-spirited actions and open-air events. She is involved in preservation of old Jewish cemeteries. He icons are included in private collections, among others in Sweden, the UK, the USA, Germany and Italy. As she says, the source of creativity and the route for her life journey is seeking the internal peace, concentration, prayer, joy of being a mother and appreciation of iconographic artistry. More about I. Marczyńska you can find on the artist's website, there you can also find extensive galleries of icons and pictures by her.
The exhibition will be available from 5 to 27 January 2017 in the Polish-Slovak House of D. Jurkovic in Gorlice.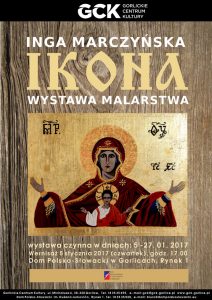 Phot. above: Facebook profile of I. Marczyńska's workshop.