From November 2016 to January 2017, the Sub-Carpathian Museum in Krosno invites for an exhibition entitled: In the icon circle by Jerzy Wojtowicz. The icons refer to Carpathian icons from the second half of the XVIth and the beginning of the XVIIth centuries, their original versions are available in the Historical Museum in Sanok or the Museum-Castle in Łańcut.
The Carpathians have constituted a natural cultural border for a long time. Two cultures co-existed here: the eastern, related with the byzantine tradition, Orthodoxy and, from the XVIIth c., also with the Greek Catholic church. The second was the western culture, related with the Catholic Church. Diversity of both the traditions – the eastern and western – has become a challenge and inspiration for the artist to present. Jerzy Wojtowicz's exhibition is an attempt to show the richness and diversity of art that was developing within the Carpathians.
The exhibition presents several most important iconographic topics, as: The Saviour Made Without Hands, Deesis, The Final Judgement, Saint Sophia, the Mother of God or Hodegetria. The last one is the oldest and the most popular iconographic version of the Mother of God holding the Child. Her right hand is pointing at Jesus Christ.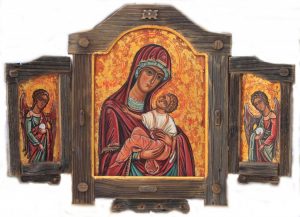 Jerzy Wojtowicz – comes from Sanok and works there. Graduated from The Academy of Fine Arts in Kraków. From 1981, he works in the Art Conservation by the The Museum of Folk Architecture in Sanok. His artistic activity involves painting, drawing, graphics and art conservation. He has made many group and individual exhibitions in Poland and abroad (Italy, the Netherlands, Slovakia). As to art conservation, among his numerous projects the following has to be mentioned: conservation  of polychromy from the half of the XIXth c. in the Orthodox church in Komańcza, reconstruction of iconostasis from the XVIIIth c. in the Greek Catholic church in Komańcza, restoration of icons in the Jabłeczna monastery and the District Museum in Biała Podlaska, as well as contribution to conservation of icons that were prepared for an axhibition in the Museum of Folk Architecture in Sanok, entitled The Carpathian Icon.
The varnishing day will be on 23 November 2016, 6PM, in the Sub-Carpathian Museum in Krosno (Piłsudskiego Street 16, Krosno).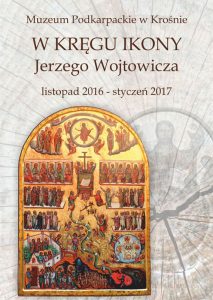 Photography source: www.ikonakarpacka.cba.pl