Kychera , the Lemko Folk Song and Dance Group from  "exile", Legnica, announces autumn recruitment for new members of the group. You can sign up for the dancing group, the band or the choir. The recruitment is directed towards all those to whom Lemko culture is dear, experience in folk dance and singing is not necessary. The recruitment meetings will take place on Fridays in the Legnica Cultural Center.
Naturally, young people who plan to be involved in the group for a longer time are welcome. The invitation is also made with a view to founding a new group that would begin work on a new repertoire. With last year's recruitment, the group consisted of 90% new members. They quickly stood in for their older friends who were not able to be involved as much because of their university studies or work. One of the first successes of the new Kycheriaks (Кычеряків / Kychera members) was preparation of the Lemko bonfires (Лемківскы собіткы) performance that was on stage since the last XXXVI Lemko Watra in Exile, Michałów (Михалiв/ Mykhaliv). This was one of the group's best achievements in the last years of activity.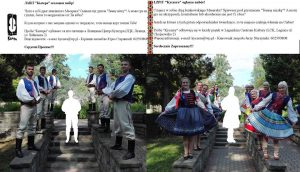 Kychera is, actually, a child of the Lemkovyna ensemble from Bielanka (Білянкa/Bilanka). The group was founded in 1991 by Jerzy Starzyński's initiative. He gathered the former Lemkovyna members from the western Poland (they had been rehearsing for some time there, but within the ensemble from Bielanka, under the direction of Jarosław Trochanowski). Lemkovyna's main focus in their artistic activity was perfect a choral singing and band. On the other hand, Kychera is centered on folk dances. Until today, the group presents authentic, as well as stylized, folklore of Carpathian Rus', and most of all, of Lemkovyna. The repertoire includes rites: the Lemko Wedding, Fedory and recently, the Lemko bonfires. In 25 years of activity, Kychera has released three albums of Lemko music. The most precious and authentic is probably the first album, entitled Цне мі ся за Тобом/I miss you. Here you can hear beautiful music by a band composed of violinists, who began to play in their home land.
https://www.youtube.com/watch?v=GJqxnGhUa_s
phot. above:  Kychera's logo