"Cantos and songs" by Petro Murianka performed with a unique sensitivity by a Ukrainian vocalist Susanna Jara will be heard at the Kraków Festiwal Opera Rara.
Opera crops have been harvested in Kraków for a week already, this will be taking place until 10 February. It is because of Opera Rara which, this year, is not only a series of baroque operas performed in a concert way, but a festival of a bigger diversity as to the repertoire. Opera Rara, meaning rare opera, rarity, goes beyond baroque this year. The repertoire covers almost four centuries, inludes 14 concerts, including three vocal concerts of soloists, among them – Susanna Jara.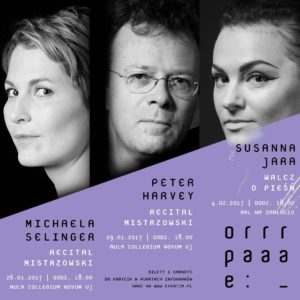 The festival started on 18 January with a bold production by a French ensemble  Le Poème Harmonique conducted by Vincent Dumestre and a young producer Cécile Roussat who is in love with the style of a fast baroque. Three days ago, from 20-22 January, a play by Krzysztof Garbaczewski was presented "A Madrigal Opera" composed by a contemporary American artist, Philip Glass. K. Garbaczewski created an abstract narrative from the events, movements, pictures, etudes of the actors – everything nonverbal. The play took place not in a theatre, but in a monastery room of St Jacob. In two days, on 26 January, the first of three vocal concerts will take place. Michaela Selinger – an Austrian mezzo-soprano will present herself to the audience. She will sing compositions by Clara and Robert Schumann, Johannes Brahms, Alban Berg and Claude Debussy. During the second vocal concert (29.01) an English baritone Peter Harvey will perform the compositions by Franz Schubert to the poetry by Wilhelm Müller. This concert will be preceded by performance of a play in The Juliusz Słowacki Theatre, an opera "Germanico in Germania" composed by Nicola Porpora. The performers will be a Russian soprano Julia Lezhneva and the most eminent contemporary counter-tenor, Max Emanuel Cencic. They will be accompanied by Capella Cracoviensis. The presentation of scenic opera productions will be continued (31.01, 01.02 and 02.02) with performance of the famous "Halka" by Stanisław Moniuszka, this time in an unusual version – an original, two-act Vilnius version from 1848.
Famous songs by Karol Szymanowski will be performed on 14 February. Upon the invitation of an artistic director of Capella Cracoviensis, Jan Tomasz Adamus, they will be interpreted in a new way by Susanna Jara. The concert Fight for a song will be performed in such a unique place (Cafe BAL) as the repertoire is, which consists of compositions by the Polish composer and Lemko songs by Petro Murianka. Apart from Shkovranochku and Posii zhe sja posii, also a folk song from the central Ukraine will be performed – Letila zozulia. The first two parts of the concert (Songs of a faiiy-tale princess and From the Kurpia songs for vocal and piano) will be accompanied by Marek Szlezer, a talented pianist, laureate of numerous international competitions and festivals, a teacher-master at the Academy of Music in Kraków. The songs Nisko słonko (Kurpian song) and Shkovranochok, as well as Posii zhe sja posii will be accompanied by Paweł Harańczyk with whom Susanna has been working for a long time.
During the next days of the festival, a concert version of an opera by George Frederic Handel "Arminio" will be performed by Armonia Atenea ensemble, conducted by George Petrou, then an orchestra from Poznań Arte dei Suonatori will perform a serenade "Marc'Antonio e Cleopatr" by Johann Adolf Hasse, the vocal parts will be performed by Swedes  Maria Keohane and an alto vocalist Maria Sanner.
The Opera Rara festival will end with a presentation of one of the most important English opera compositons "Dido and Aeneas" by Henry Purcell. A perfect interpretation of the history of tragic love of Dido and Aeneas will be provided by eminent soloists, among others a soprano Raffaella Milanesi and baritone Richard Helm. The instrumental part will be taken care of by La Risonanza ensemble conducted by Fabio Bonizzoni and they will be accompanied by a semmi-amateur Krakowski Chór Mieszczański.
The festival is organized by: Kraków City, Krakowskie Biuro Festiwalowe and Capella Cracoviensis.