Next weekend, i.e. 9-10 December 2016 in Vojvodina the 14th edition of a Rusyn festival of small scenic forms – Dyura Papgargay will take place. It is a cultural event aiming to present Rusyn artistry of any kind. Within the two-day festival that wil take place in the big hall of the Rusyn Cultural Centre of Jovan Subotich in Nowy Sad, Rusyn cinema will be shown, but mostly theatre plays.
The first day of the festival (Friday, 9.12) starts at 7PM and it will concern the memory of Marek Gadnianski (15th death anniversary). Within the festival, a presentation of the newest edition of Ruska Matka magazine – "Rusnak" will be presented. Also, another event will take place by the festival – Rusyn film fest. It took place at the beginning of October 2016 in Szyd, now it will arrive at Nowy Sad. On this occasion, a documentary will be presented about Lemkos' anguish in Hornica and during the I WW. The hard lot of Lemkos a the time of the war is the main theme of this year's edition.
Saturday wil start with opening an exhibition by two painters – Maria-Maj Besermina and Helena Syvch. Then, the main part of the festival will take place – two theatre plays. The first of them – "Christmas dresses" – by Radomir Malojkovich, the second one "Dog, my best friend" – by Vladimir Kochysh.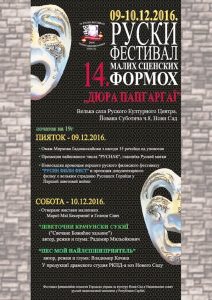 info: Ruthenpress