On 15 October 2016, a tour by "Ruthenia"  Rusyn folk ensemble  entitled Rusyn heart will begin. The concerts will take place in five locations in Slovakia. The aim of the tour is to show our heritage with all its heart. Rusyn heart.
By organizing the tour, "Ruthenia" intended to show the story of wonderful handymen who were wandering about the entire Carpathian Rus' quite not a long time ago. It is a story about tinkers whose task was to repair leaky pots. The performance will present life stories of three friends – tinkers who have different adventures. There will be several stories of tinkers shown, who had to leave abroad to make money (from Lemkovyna, Prešov or Subcarpathian Rus'). The friends keep on remembering their home village, the songs and dances. The musical story will be told from the point of view of one of the tinkers, who was wandering around the villages of north-east Slovakia or Serbia.
The author of the Rusyn heart programme is the leader of the ensemble, the former chairman of the young.Rusyns organization and the Deputy Editor in Chief of Rusyn.fm radio – Peter Peter Štefaňák. The performance will be accompanied by choreographies by: Stefan Stec, Slavomir Ondjejka, Agata Krausova and Marianna Svorenjova. Also, Michael Noga will be one of the guests.
The tour will consist of five concerts. The Rusyn heart will be performed on:
15 October – 5 p.m., Thalia theater in Košice;

16 October – 3 p.m., Stará Ľubovňa Community Center;

22 October – 5 p.m., The Alexander Duchnovic Theatre in Prešov;

23 October – 3 p.m., Community Center in Snina;

9 October – the time is not known yet – Community Center in Bratislava.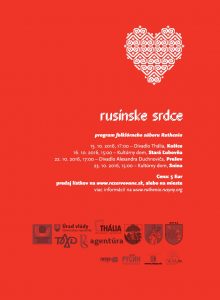 The Rusyn heart presents folk dances and songs of the Prešov region villages, such as Kamienka, Maly Lipnik, Sambron, Saryvskie Astrabja, Tichy Potok, Kyjov, Semetkovce, Habura, Sumiac, as well as of the Serbian Vojvodina region where Rusyns live.
The tickets are available here until 11 October 2016 (the concerts in Kosice, and Stara Lubovna), and until 18 October 2016 (the two last concerts in Snina and Prešov). The tickets will be also available on the day of a particular concert.
The title Rusyn heart took its name from a jubilee concert of "Ruthenia", on its 5th anniversary. Back then, the same programme was presented (the story of tinkers).
"Ruthenia" is a youth folk ensemble under the young.Rusyns organization in Bratislava. The young people want to take care of Rusyn culture and hand it over to people on any stages of the world. In March 2016, the ensemble went for a tour to Peru, South America. In fact, "Ruthenia" is not only an ensemble, it is an association, as the members are also involved in the organizations of Rusyn Vatras in Maly Lipnik, as well as other events organized by the young.Rusyns.