In less than a week an authorial meeting with Jarosław Giemza is planned, the author will be talking about his last work entitled Churches and icons of Lemkovyna.
The further promotion of such a comprehensive publication concerning sacred art and church heritage in Lemkovyna will take place on Saturday 1 April in Krynica, the Old Spa House. The meeting will be preceded with a concert entitled: Prayerful images  in Lemko songs by duet: Julia Doszna and Antoni Pilch. The patronate of the event has been taken by Dariusz Reśko – the mayor of Krynica.
An additional attraction preceding the meeting will be visiting the Lemko church in Powroźnik. The author himself will be talking about it. The church of St. Jacob in Powroźnik is the oldest church in Lemkovyna. According to the inscription set at a representative place in the altar even before the paintings were made, we can get to know the construction was finished on 5 October 1600. Thus, on the southern wall there is inscription with the year of 1604. But it is not only the age of the church that makes it one of the most popular churches of the southern part of Poland. The church represents unique architecture and it is an example of traditional Lemko church architecture. All of the characteristics made in 2013 the church was entered on the world List of Heritage UNESCO where the most eminent monuments in the world are included. In the podcasts of LEM.fm you can find a whole broadcast dedicated to the history and architecture of the object (you can listen to it here), surely many interesting additional facts you will get to know during the lecture by J.Giemza who carefully explored the church.
More about the publication itself and the author you can read in the archival articles on the website (here, here or here), the work is also available for borrowing in the Ruska Bursa library.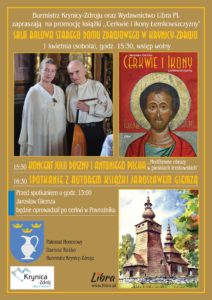 Photo above: the church in Powroźnik from 1939 (phot. J. Witkiewicz).